Dentistry For Kids Near You
At Mill Bay Dental Health and Implant Centre, we are committed to providing kids with a fun and interactive environment to learn about their oral health. It's important to educate your kids on the importance of taking care of their teeth and gums. Contact us to learn more about how the wonderful Tooth Fairy can visit your school today!
Tooth Fairy Colouring Contest
Click the photo below to download our Tooth Fairy content PDF. You can print the photo for your child to colour in and bring it to your next appointment to enter the contest. All entries are eligible for a prize!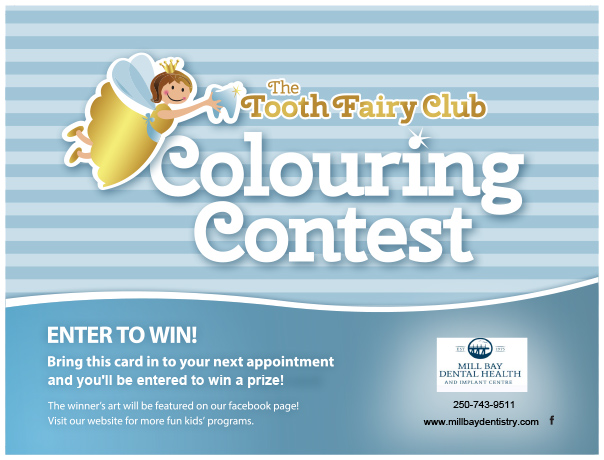 Cavities can form the moment your child's tooth erupts. Our dentists recommend bringing your child for their first visit once they turn one or six months after their first tooth erupts. Healthy baby teeth can contribute to:
Improving your child's self-esteem
Preventing discomfort and pain
Assisting in speech development
Maintaining space in the jaw for permanent teeth
Helping your child chew
Regular visits to the dentist can ensure your child's teeth and gums are healthy. When you consistently bring your child in for a checkup and cleaning, they can get used to regularly seeing the dentist. By practicing good oral care habits, your child can maintain a cavity-free and healthy smile.